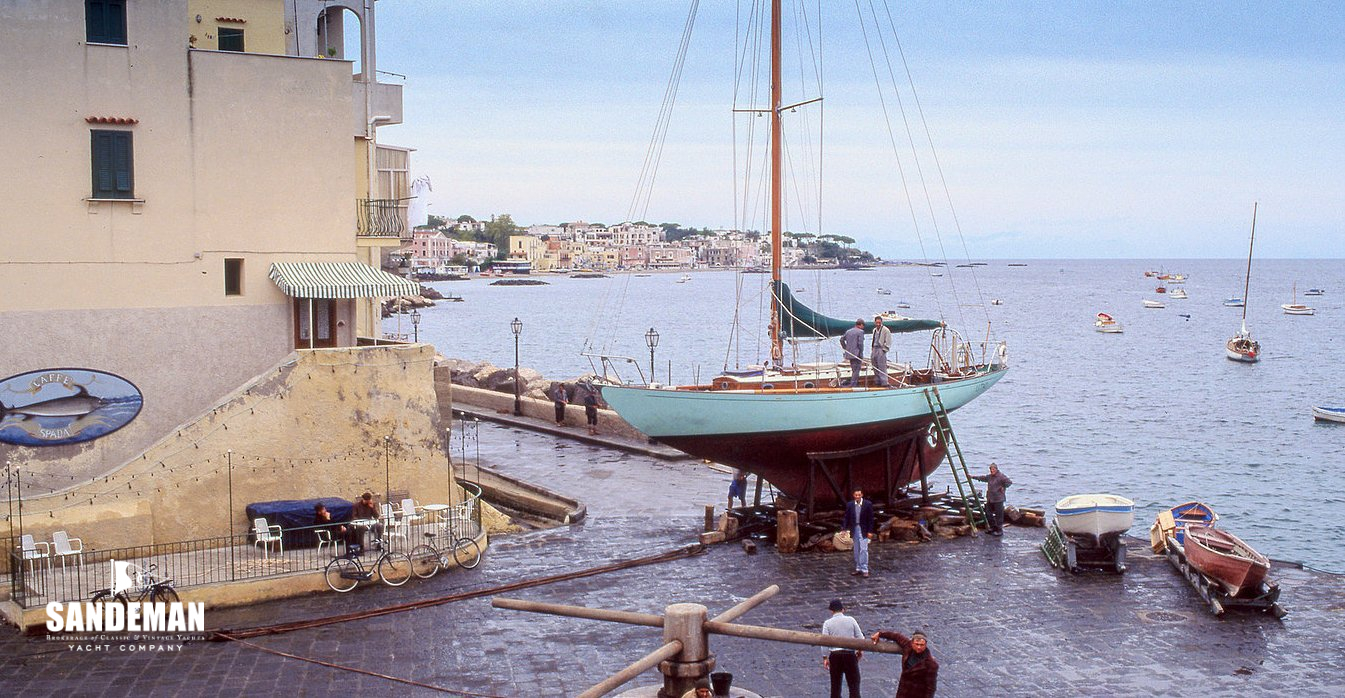 Have you ever watched Anthony Minghella's sumptuously filmed treatment of Patricia Highsmith's psychological thriller The Talented Mr Ripley and asked yourself: what's that beautiful yacht?
My take on this story is different from most, because I knew the gorgeous Philip Rhodes-designed 42ft (13m) sloop SANTANDER OF WIGHT would be in the film long before it was released writes Iain McAllister.
My classic yacht skippering work in those days took me regularly to Porto Santo Stefano on Tuscany's Monte Argentario peninsula when for non-Italians that delightful port was still a well-kept secret outside the select band of well-heeled Romans that had weekended and vacationed there for generations.
Midsummer of 1998 I found SANTANDER, unusually for the time of year, hauled out at Cantiere Navale dell'Argentario for a makeover. Her local wine-maker owner (his family had owned the boat since the mid-1960s) told me she'd been chartered by a Holywood film production company for two months of filming around the Tyrrhenian Sea. I was tempted to ask him if he wanted any help with that.
Authenticity was of prime importance to the film's production team; the yard was even stripping the paint from one of their greased ways sled cradles to give it – in the eyes of Minghella – a more authentic look. Little did I know then that the cast included Matt Damon, Gwyneth Paltrow, Philip Seymour Hoffman, and the still little-known Jude Law in his debut major film role. It was to be a lucrative and fun charter.
It all seemed a great future story; a scoop for this classic yacht nerd then co-editing with Tim Killingback the classic regatta magazine Sail Fast International, newsletter of the International Classic Yacht Association.
On the film's release, I obtained use of some fabulous stills and blurb from its publicists, and the news article below was the result.  Anthony Minghella's comments about wanting the past to look like he wanted it to look seemed quite apt amid the sometimes dubious authenticity then employed in classic yacht restoration – but that's another story.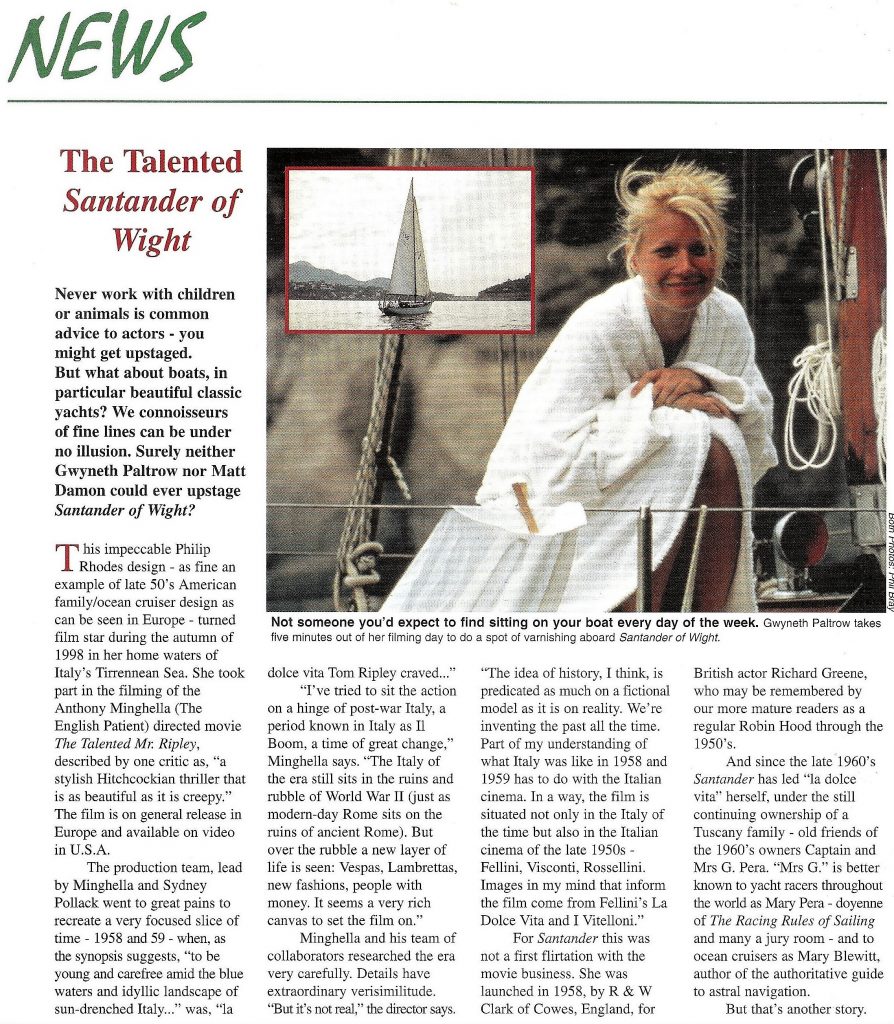 SANTANDER of WIGHT was built by R & W Clark of East Cowes, to Philip Rhodes' popular, successful and exquisite Rhodes 29 design (from the waterline length). The type owes its origin to the phenomenal passage racing successes of Richard Nye's Rhodes-designed 53ft (centerboard yawl CARINA (II) of 1955. That such a wholesome and good-looking yacht could also be a winner became well noted, but not everyone could have a 53-footer (16m), and it was these smaller 42-43ft (13m) sloops and yawls, centreboard-keel and full-keel Rhodes 29s that were commissioned in numbers through the late 1950s.
SANTANDER OF WIGHT had been brought to Italy in 1963 from her original place of birth and home port, Cowes, by retired Italian Navy Captain Gianni B Pera, and his more famous wife Mary Blewit Pera. You'll know Mary's middle (maiden) name if you're into astral navigation, and if of a certain age and into the Racing Rules of Sailing, then she's Mary Pera (again a story for another day…).
The Anglo-Italian couple were committed racers – they met aboard John Illingworth's legendary MYTH OF MALHAM when Mary was her race navigator, and married in 1957 settling in Rome – so it's safe to say that SANTANDER was raced, but in her later Italian ownership she's been off the classic regatta radar for half a century; a wonderfully committed cruiser.
But another of the Rhodes 29s, the centreboard version, ALBA (ex OJALÁ, ex HONEY) has been a well-known sight at western Mediterranean classic regattas for the past almost 30 years, and is for sale with Sandeman Yacht Company.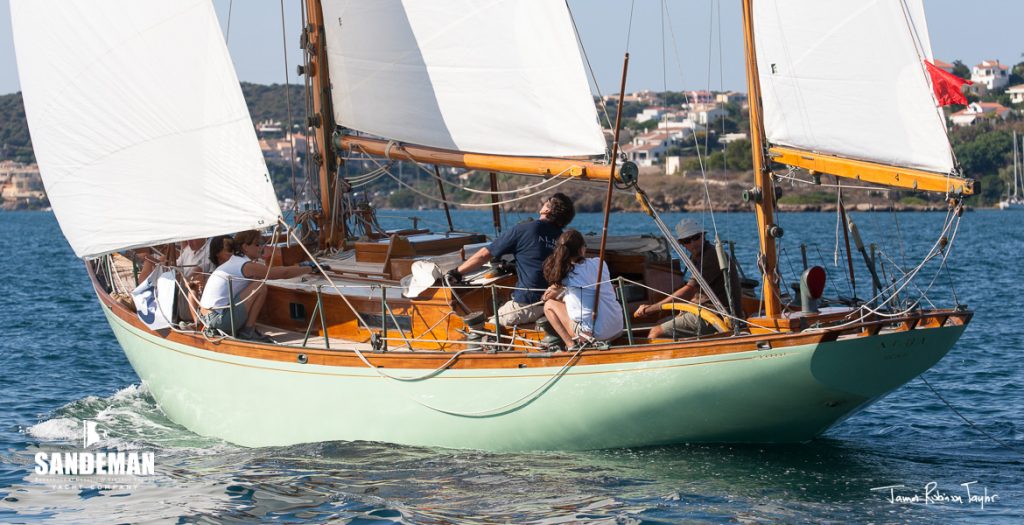 Launched in 1956 by the master builders of Bremen, Germany, Abeking & Rasmussen, as HONEY to the order of Mamaroneck, New York, yachtsman I. David Easton, a member of Larchmont Yacht Club, ALBA is arguably the finest of the lot and also fabulously authentic. Her early years involved cruising and occasional east coast USA distance races, including participation in the 1959 Annapolis – Newport.
At some point in the 1960s, HONEY was sold to colourful New York-based French restauranteur Andre Surmain. Perhaps she offered a place of peace away from the heady atmosphere of Lutèce, Manhatten's go-to French restaurant; somewhere he could choose his friends. Certainly, her quality of build, finish and beauty would have been appreciated by a man with a collection of, at one count, 27 classic cars.
It is said that in 1973, on announcing one night at the restaurant that he'd sold-out to his chef and business partner, André Sotner, Surmain then sailed HONEY across the Atlantic to Mallorca and his new venture there at Puerto d'Andraitx, Foc i Fum, where the offer was: "French and Mallorquin food in an ambience of flowers under the stars".
During Surmain's ownership, her name changed to OJALÁ, though it is presently not clear if this happened while she was still in the USA, or perhaps on arriving in Spain. It's a wonderful Castilian Spanish word of Arabic origin that we might translate as "God willing".
From 1978, probably after Surmain moved to France and his new restaurant venture Relais a Mougins near Cannes, Spanish-based Swiss architect Marc Baillart took over the reins of custodianship and cruised the Mediterranean extensively. Through these first three ownerships, a trend was set of changing almost nothing and, still as OJALÁ, she remained in an astonishingly original state when she caught the eye of serial Italian classic boat collector Ugo Baravalle in 1989. Baravalle became captivated: "I found her in Seville, Spain. For the previous 10 years, she had been owned and sailed single-handedly by a Swiss yachtsman… She is beautiful, 98% of her was original, the cotton sails, her stove – even her flags."
She joined Baravalle's Circilo Nautico Italiano collection of classics at Portoferraio on the island of Elba, her name changing again to the present ALBA after his first daughter. Baravalle's team of highly skilled boatbuilders and engineers gave ALBA her just deserts, and she made her Mediterranean classic regatta debut at Mahon, Menorca, in the 1991 edition of Trofeo Conde de Barcelona, coming equal first in class.
Now, since 2002, ALBA is in her second Spanish ownership by a Barcelona Architect, Commodore of Real Club Náutico de Barcelona for over a decade, and from 2004 to 2008 the President of the organising authority for western Mediterranean classic regattas, CIM (International Committee of the Mediterranean). She regularly attends and places in the Mediterranean classic regattas, winning overall in the 2013 Copa del Rey de Barcos de Época – Vela Clásica Menorca regatta at Mahon.
As HONEY, OJALÁ and ALBA, this enchantingly beautiful and fast yacht has always been a happy ship.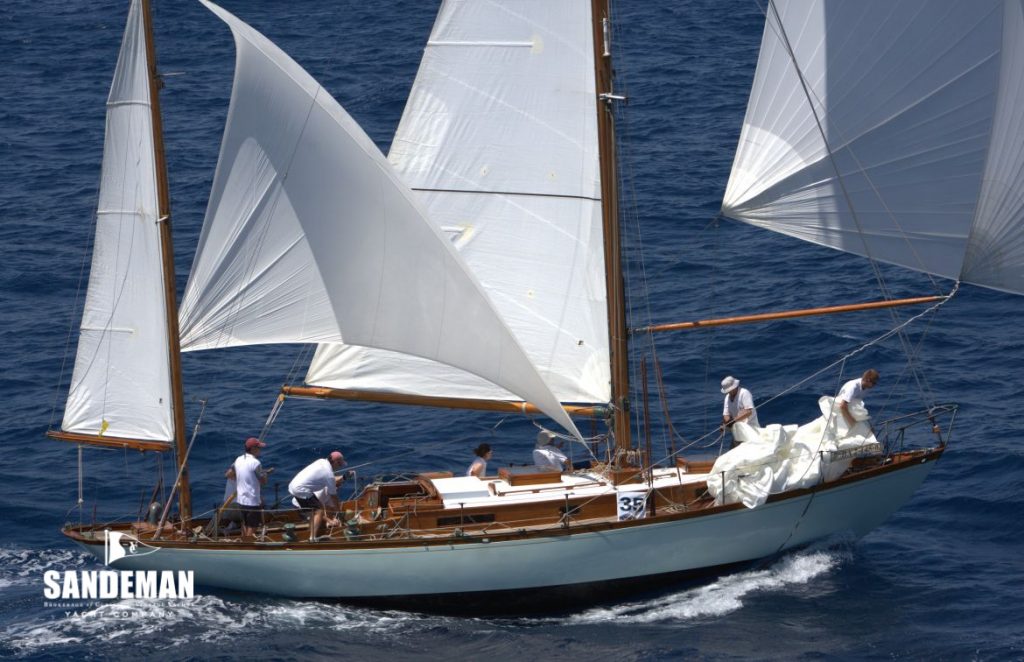 It's been our good fortune to become intimate with a further two slightly larger (45ft/ 4m) and equally fine Rhodes designs from the 1950s built by German yards: near sisters JOSEPHINE (ex JANE DORE IV), built by Heidtmann of Hamburg in 1954 and presently for sale with us, and UNDINA, built by Abeking & Rasmussen in 1953, famous as the yacht in Griff Rhys Jones's hilarious book To The Baltic With Bob, and now enjoying the delights of the west coast of Scotland under new ownership after purchase through us in 2018.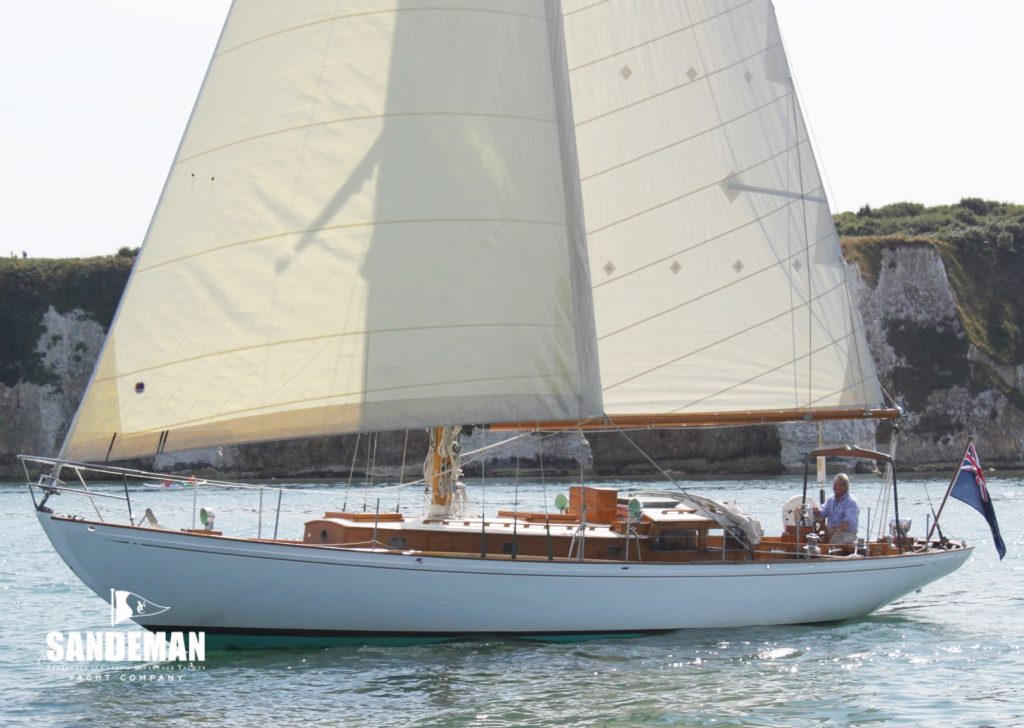 In his seminal 1966 work, The Proper Yacht, Arthur Beiser wrote, "… a Rhodes boat is sure to be able, handsome, and comfortable. But there are other architects of comparative skill, and what seems to me to be Rhodes's unique talent is his way of infusing a special, distinctive, pleasing character into each of his creations. I have seen and admired a score of different cruising vessels of Rhodes design, and all of them draw the eye at once for the exact rightness of their looks."
That's why, even to the uninitiated, "that yacht" in The Talented Mr Ripley grabs the attention so – and, in our eyes of course, steals the show from the all-star cast.
All the yachts above are infused with this "exact rightness" in spades, enchanting their owning caretakers through six decades on both sides of the Atlantic Ocean, and ready to do just that for generations ahead.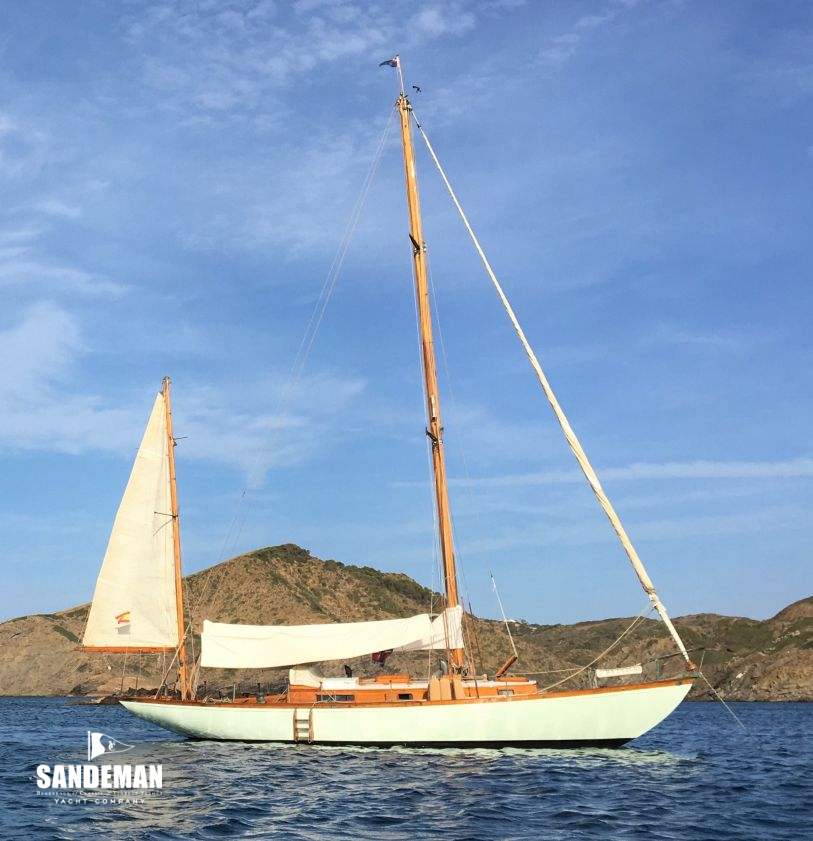 Full particulars for ALBA can be found here
And for JOSEPHINE, here
Main photo Phil Bray/ All Yacht: SANTANDER OF WIGHT during production of The Talented Mr Ripley, Italy, 1998