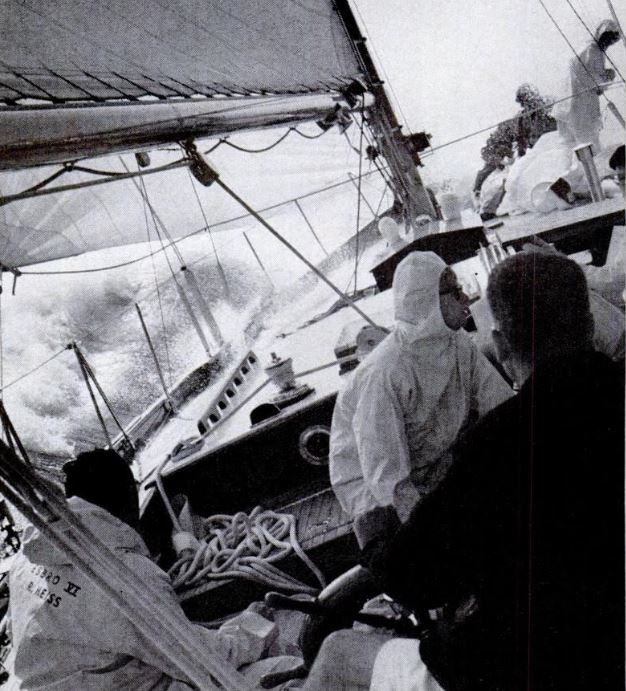 In the mid 60s, pre-war ocean racers and fast cruisers still more than held their own in the classic long distance races. This is the Spanjer brothers' John G Alden-designed 61ft yawl ESBRO VI, slogging it out to her heart's content during the 1965 Chicago-Mackinac Race: as reported by Popular Boating magazine's onboard correspondent, Cal Hutchinson – two days to windward against winds of up to 22 knots and a 5 to 6ft short chop. No breathable foul weather gear in those days; her very comfortable interior would have been much appreciated.
We know ESBRO VI better as IRONDEQUOIT II, her original name when launched by the legendary George Lawley yard at Neponset, Boston, for Thomas H Shepard. Alden design plus Lawley build… now there's a perfect marriage of excellence!
Line honours competitors in a record fleet of 110 boats that year included some still famous and active names, including the Schoenorf brothers' 56′ Sparkman & Stephens cutter BLITZEN, the fascinating double-enders MITENA (a unique L Francis Herreshoff-designed International 12-Metre) and GYPSY (Charlie Kotovic's Frank Paine-designed 50ft sloop), and the Cal 32 AMORITA – also rather well known to us!
In recent past years, as LUCIA A – and now back to IRONDEQUOIT II – this wonderful American yawl has built a racing reputation once again on the classic circuit on both sides of the North Atlantic. She'd love to get back on the race course, and will also take you and your family very comfortably 'fast cruising'. Will you give her the chance?
Check out IRONDEQUOIT II here: http://www.sandemanyachtcompany.co.uk/yacht/434/john-alden-61-ft-yawl-1940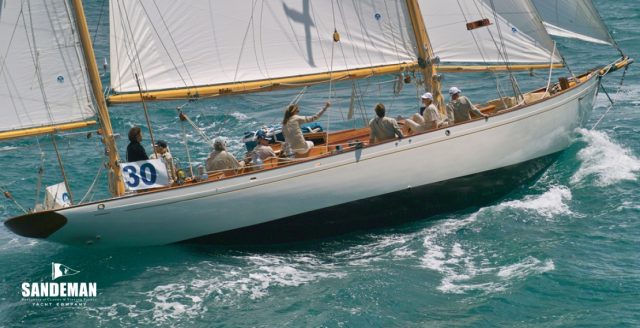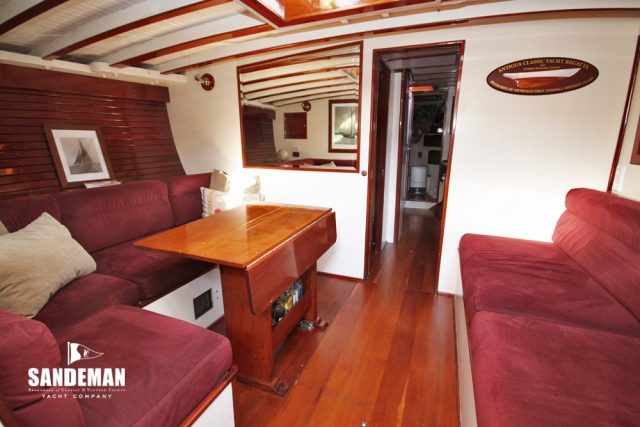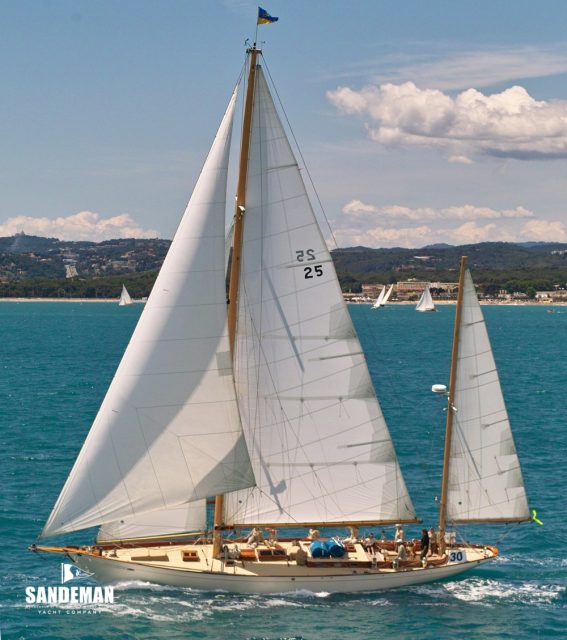 http://www.sandemanyachtcompany.co.uk/yacht/434/john-alden-61-ft-yawl-1940
(Main photo: Popular Boating magazine, October 1965)