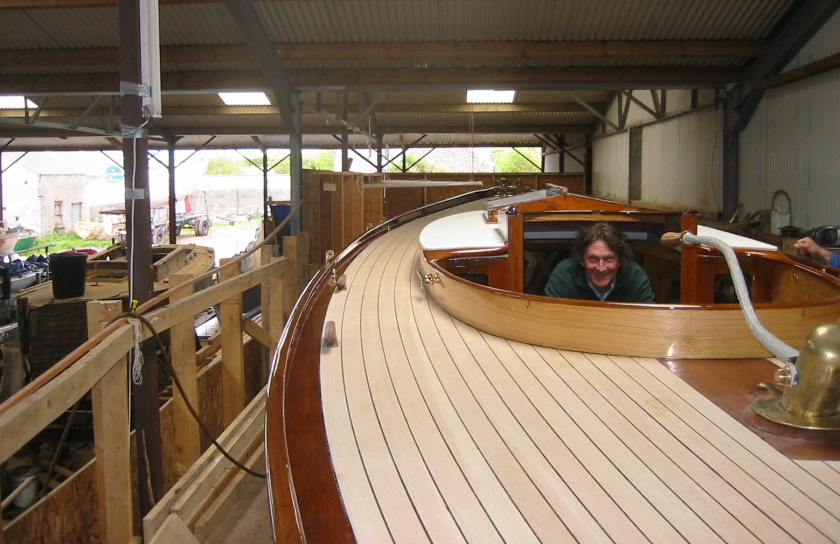 It's always fun to turn tables on a pro photographer. Through 2004 and 2005, marine photographer Nigel Pert regularly followed the authentic rebuild of Hal Sisk's 1894 GL Watson-designed gaff cutter PEGGY BAWN at shipwright Michael Kennedy's Dunmore East yard on Ireland's south-east coast. PEGGY's pine deck is something very special.
My affinity with a yellow pine deck (USA: white pine; botanical: Pinus strobus) continued from experience with the 1940 William Fife Jr–designed 52ft/16m bermudan cutter SOLWAY MAID. Fortunately there was no choice: as found, PEGGY BAWN still had her original – though no longer usable – then 110-year-old yellow pine deck, and authenticity was our watchword.
From a time when boat designers and builders could choose any species, on demand, PEGGY BAWN's creators would not have given much thought to the deck material: by default, GL Watson would have specified lightweight and dimensionally stable yellow pine, and her builder, John Hilditch, would have held carefully seasoned stock at or near his yard at Carrickfergus on the north shore of Belfast Lough. It was the norm; the use of teak for yacht decks then wasn't.
"… it's better than we could possibly imagine."
Years of unsustainable use and changing patterns of demand mean that best quality yellow pine is well-nigh impossible to find. But we succeeded via a wonderful network of contacts in sourcing perfect, full length (36 ft/ 11 m) stock from a sawmill in deepest Massachusetts.
I well remember Michael's excited phone call from America: "Iain, it's better than we could possibly imagine." And my feeling of relief that the expense of sending him all that way had been justified. The alternative: buying blind and incurring the cost of specially shipping potentially inferior material was unthinkable.
The sawyer, a specialist in already fallen trees, had kept the material set aside for some suitable project that might come along; the fact that his wife is Irish clinched the deal when Michael flew over to inspect the stock. They eventually turned up unannounced at Dunmore East to make sure their hopes for the material had been honoured.
"Such a deck… takes its sweet curves from no other part of the boat's lines"
I think they truly were, thanks to great work by Michael Kennedy – and, in particular for the deck, his team member carpenters Graham Bailey and John Colfer, and our naval architect, the late and much missed Theo Rye – in faithfully replicating PEGGY BAWN's original swept and tapered deck, and the narrowest of cotton and Jeffrey's Marine Glue seams.
Such a deck, the style in vogue in the 1890s, takes its sweet curves from no other part of the boat's lines: it has a life of its own, not following the line dictated by the covering board, but a much shallower radius, tapered very finely aft and nibbed into the covering board forward, with no king plank.
Eagle-eyed readers may recognise William Fife II's Ayrshire Lass of 1887, patiently waiting her turn for the treatment – eventually completed in time for the Fife Regatta 2008 – a story for another day.
PEGGY BAWN is for sale through Sandeman Yacht Company. For more details, photos and full specs, please CLICK/ TAP HERE.