They say that the happiest days of boat ownership are the day you buy a boat, and the day you sell her. Thus far, I can only really vouch for the former. Ragnar is a 44ft gaff-rigged schooner, built in 2002 by a little-known German builder named Martin Skadow of Neuhaus Boatworks near Cuxhaven. She's to a John Leather design inspired by French pilot boats that operated out of Brittany and Biscay ports around the turn of the last century, and she is my first 'proper' boat.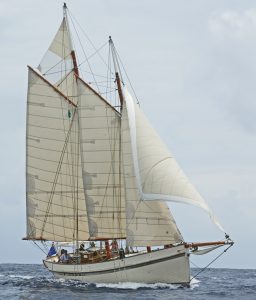 My fondness for working boats draws heavily from my childhood experiences of wooden fishing boats in the North of Scotland, and my desire to own one had heightened over the last few years due to the recent spate of gorgeous pilot cutters being produced by various yards in the south-west of England. However, traditional swept decks don't appeal much to a big softie like me, so I set out early in 2012 to find a blue-water thoroughbred with similar classic lines. It was important that my potential purchase should not only embody the essential pilot boat characteristics of exceptional seaworthiness and a decent turn of speed, but could also provide a little more space to stretch out below deck while giving a degree of comfort and protection from the elements above.
Ragnar is exactly that. She's a very tough little nut: hulled in 1¾-inch iroko planking over a forest of laminated iroko frames with grown-oak deck beams, hollow pine masts and spars, and a superstructure of kimbala wood. With her high bulwarks providing safer, dryer passage-making, she also has an unusually bright and spacious interior for a boat of her type. A coach-house amidships gives 7ft of headroom over a saloon big enough to host a decent wee ceilidh (a gaelic shindig), and she has a generous cockpit that comfortably seats six along with a roomy doghouse to shelter in when the weather turns nasty. I was completely boat-struck from the moment my eyes washed over her.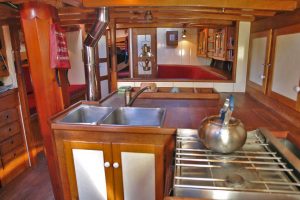 Looking somewhat out of time and place amongst a flotilla of average-white-boats in her Mallorcean marina, she was given a sparkling bill of health by Jim McIlraith, of Survey One surveyors, who flew out from Renfrew in Scotland to poke and prod his way around her numerous nooks and crannies. He was very impressed with her fit and finish, and – as testament to the craftsmanship and quality of her build, along with the obvious TLC that has been lavished on her since – he shared in my disbelief that she had only recently returned from four years circumnavigating.
With plans to set off on a similar voyage of my own some day, my arrival in Mallorca in mid-August for the hand over (in the middle of a sweltering heat wave) was the timely climax to a rather prolonged purchase that had been expertly brokered with patient diplomacy by Barney Sandeman. The intention for my first fortnight aboard had been for the previous owner – a salty old American seadog and former professional sailboat captain (aptly named, Skip Eaton) – to accompany me on "a couple of afternoon sails" in order to introduce me to the particular nuances of a gaff-rigged schooner. However, Skip had far more elaborate plans in mind for showing me the ropes!
Ragnar has been a regular feature of the Trofeo Almirante Conde de Barcelona in recent years, and an invitation had been extended by the organisers for her to attend the 28th enactment of this classic regatta, which was to be held for the first time in Alcúdia a few days after my arrival in Mallorca; in lieu of its traditional residence in Palma. Having never raced a boat before in any capacity, I jumped at the chance to spend my first week sailing Ragnar in style. A couple of phone calls later, Skip had taken-up the committee's invitation and rounded-up a few extra hands.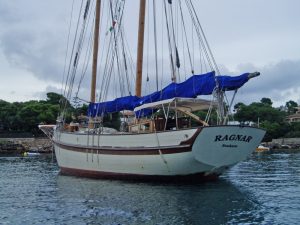 After stowing away a shopping trolley or two of (mostly liquid) provisions, we set sail from her marina in the south of the island early next morning on a relaxing broad-reach up the south-east coast. Halfway to Alcúdia the wind really picked up and, despite making over 9 knots at times, Ragnar's unfussy rig and weighty, sure-footed progress through building seas gave the surreal impression of moving in slow-motion. It was an absolute joy to behold and, caught-up in my thoughts as I was for those few liberating hours at the helm of my future ticket out of the rat-race, the sight of an empty horizon over an expanse of sun-kissed whitecaps further out to the east had an almost irresistible lure – I was indeed a very happy man.
So too, it seemed, were my fellow crewmates: remarking that it was one of the best days of sailing they had enjoyed off Mallorca in many years. It was to set the mood for the coming days of racing, making new friends and welcoming aboard an old pal from my hometown of Dundee, who came out to join in the fun and unwittingly help me to feel a little less self-conscious at being (up until his arrival) the only fat, melting, forty-something, vainly trying not to stick out like the proverbial sore thumb amidst the throngs of fit, young, tanned crews populating the quay-side and decks of most of our neighbouring boats.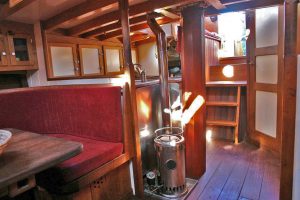 Much like us though, the rest of our fellow 'competitors' in the working boat class weren't there to bust a gut either – we were all happy just to be taking part. I'd been told that entries for the regatta were well down on recent years, perhaps due to the relatively late change of venue, the economic climate, competing regattas elsewhere, or, indeed, a mixture of all these. Nevertheless, unlike the majority of previous events I'd heard about in the Bay of Palma, the Bay of Alcúdia provided fair winds for the duration, allowing us to mollycoddle Ragnar to three class wins over each of the three days of racing and receive a neat little trophy, presented by the town Mayor no less, for our efforts.
Arriving back at her berth down south after an uneventful overnight passage from Alcúdia, I felt extremely fortunate at having had the unexpected opportunity to become acquainted with my new boat in such an emphatic manner. Most of all I felt lucky to have shared the time with her previous owner, Skip. His insatiable sense of humour managed to remain as dry as Ragnar's decks throughout, and his years of canny seamanship and inherent knowledge of every sinew of her structure, systems and fabric all added up to a vastly enjoyable and genuinely invaluable learning experience.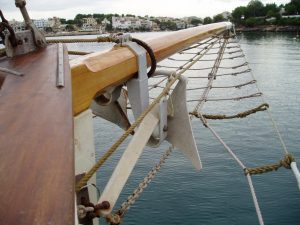 On reflection, I'm reminded of several occasions during some of our hairier upwind legs (it wasn't all plain sailing) when Skip had assured me that there was no need to fret; "after all," he would say, "we're the two happiest men on a boat anywhere in the Med – it's all gonna work out just fine". That may have been so, however, whether Skip's happiness in selling Ragnar is up there with my happiness at having bought her, I guess only he can vouch. As for me, I hope it will be a long, long time before I'm ready to answer that question.