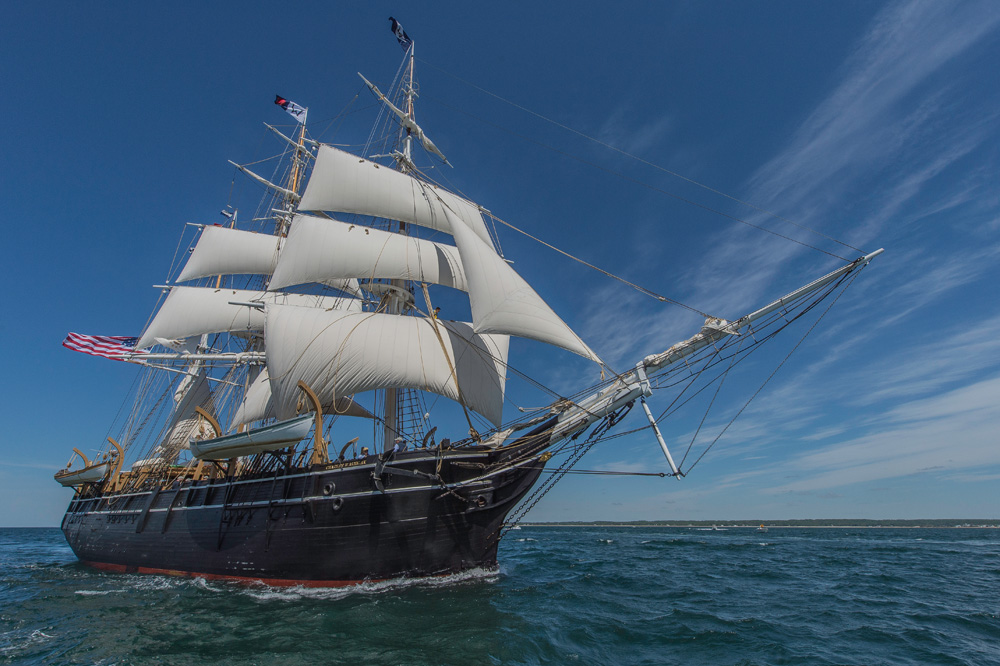 There have been some great maritime books published in 2014 and more are in line for the new year. Reviewing the current crop is always fun and sometimes finding out more about them or the subjects, is even more so. Emily Dickinson wrote "There is no frigate like a book/to take us lands away…" and that is very true. It is also a lot more comfortable although far less adventurous to settle down in a favorite chair with a cup of tea, or something stronger, and a good book on a cold winter's night. Considering the current state of the world, a book could be a lot safer, if less exciting, than travel, even by sea.
Someone has commented that I seldom write about maritime fiction and that is true, it's because I rarely read maritime fiction – it is the non fiction that I find is so fascinating. You can learn about people's motivations, all sorts of boats and ships, distant islands and far away shores, storms (and calms), other ways of life, about pirates, navies, or exploration, what works and doesn't work at sea, how to trim sails and tie knots, the arts and crafts, traditional seamanship, even how to survive, and then of course there are sea stories and other lies… just as there are with fishermen.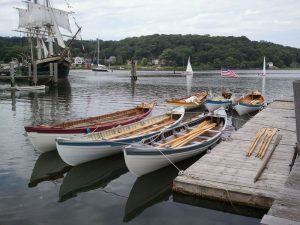 I think that just about anyone who was privileged to see the recently restored and rerigged whaling vessel CHARLES W MORGAN sailing in Vineyard Sound on her 38th voyage in June, or visited on board her when she was tied up at the South Wharf in Vineyard Haven, would unhesitatingly declare that her visit was the most important Vineyard maritime event of the year – maybe several years! I won't recount her history here because it has already been well covered in the local papers, but I will note that having her escorted by the fishing vessel ROANN – originally built for and owned by the late Captain Roy Campbell of Vineyard Haven – was more than just icing on the cake. Completely rebuilt by the talented ship's carpenters in the du Pont Preservation Shipyard at Mystic Seaport Museum (as was the MORGAN), ROANN provided at least an additional layer with wonderful frosting in between all the layers! When the MORGAN and ROANN, plus the accompanying fleet of boats sailed in, cannons boomed, fire guns sent streams of water into the sky and crowds thronged the shores. More than a few folks were sniffing up sentimental tears of joy.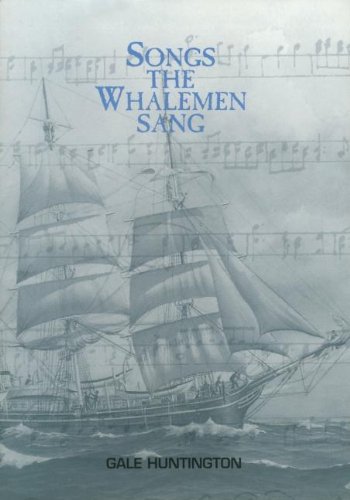 Writing about the MORGAN leads naturally into my first recommendation which is The Gam, More Songs the Whalemen Sang by [E] Gale Huntington, published this past year by Loomis House Press/Camsco Music, under the guidance of Larry Kaplan of Essex, Connecticut.
Possibly only a few islanders will remember Gale and Mildred Huntington, but when I mention that Mildred was a Tilton it may spark some recognition. She worked in the MV National Bank and was for many years the auditor in Chilmark. Gale was a high school teacher (I learned Latin and Problems of Democracy from him), a fisherman, an amateur archaeologist with considerable knowledge of prehistory, a musician, a long time editor of the Intelligencer from the Dukes County Historical Society (now the Vineyard Museum), a historian, an author, and a folk singer. He and Mildred often sang at island parties, sometimes with Artie Look, Hollis Smith, Ernie Correllus, and Gale's brother Willy, occasionally even his brother Albert, or their daughter Emily. The musical legacy of the Singing Tiltons of Chilmark lived on in Mildred and Emily. Others played and sang too but those were the principals. They were wonderful parties and those of us very young ones who were privileged to attend (mainly because our parents could not find, or could not afford, babysitters) experienced a bit of island culture that – even with the many new young island musicians – can never be repeated or duplicated. Unfortunately I don't think that anyone ever recorded any of those musicales – local parties thick with cigarette smoke and home-brew, as well as good homegrown music – which is a shame as it was in the best of the maritime folk tradition.
Mr Huntington wrote a number of pamphlets (one about the Singing Tiltons of Chilmark) and several books including a book titled Songs the Whalemen Sang. Originally published in 1964 by Barre Press it became a sort of cult classic. Republished in 2012 by Mystic Seaport Museum, its popularity and authenticity remain undiminished. A few people knew of another manuscript that Gale had written but it was only recently, long after his death, that a publisher for the sequel was found. His research and scholarship were always meticulous and his writing precise and engaging as well as informative. The Gam is no exception, and as his other books, is well organized, with several sections for Whaling Songs, Songs of the Sea and Ships, Popular Songs of or near the Period of the Voyage, Traditional Songs and Ballads, Miscellaneous and Others. There are many footnotes of additional information and there is a glossary, an index and extensive bibliography as well photos and illustrations. I purchased a paperback version but have not found any evidence of a hard-bound edition. The first book remains for sale, and together, the two books would make anyone who is interested in whaling, the sea, music or folklore a dandy gift.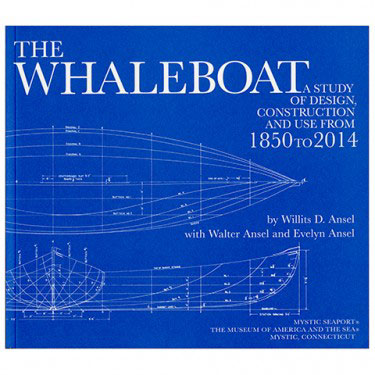 The next book got a brief mention in last year's reviews but was only actually published in 2014. The Whaleboat, A Study of Design, Construction and Use from 1850 to 2014 is the third edition of The Whaleboat by Willits D Ansel, originally published in 1978 by Mystic Seaport Museum. A second edition appeared in 1983 and now, with co-authors Walter Ansel (Will's son) and Evelyn Ansel (Walter's daughter and Will's granddaughter) it has been revised, updated and expanded to include information about more whaleboats and about the whaleboats specifically built by nine different workshops to accompany the MORGAN on her 38th voyage. There is a wonderful photo of the three Ansels, outfitted with appropriate shipbuilding tools (Evie joined the crew and helped to caulk the MORGAN while Walter has been on the shipyard staff for years and Will is now retired) pictured under the hull of the MORGAN. Since the second edition Walter has written a chapter about building a Beetle Whaleboat Replica with his father, and Evie has an afterword: The Yankee Whaleboat in the Twenty-first Century." She writes about the whaleboats built for the MORGAN and describes the similarities and differences between the various boats. There are numerous photos of the boats under construction, construction details, the hardware, and the boats under sail or being rowed.
The world economy has zoomed into the computer (and almost post-computer) age since the heyday of the whaling industry and looking at the MORGAN and her whaleboats and then contemplating a modern oil tanker or even thinking about the importance of whaling in the economy of New England (particularly south-eastern New England) as opposed to that of 2014 requires some creative thinking and a flexible imagination.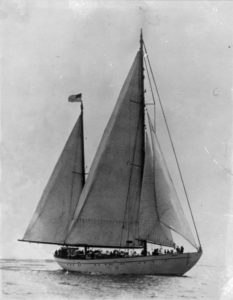 Just across the water in Woods Hole is one of the worlds' outstanding marine science communities. It is one that the vast hordes of visitors in summer and even the island travelers in winter barely comprehend. Yet the Woods Hole Oceanographic Institute, Marine Biological Lab, NOAA, Northeast Fisheries, SEA, Woods Hole Research Center, USGS Marine Geology Center and numerous ocean-centered businesses all have their facilities in or near Woods Hole. WHOI alone has many deep science projects worthy of attention; add in all the others and you have have enough to keep a whole university of students busy. A number of research vessels belonging to WHOI or the other entities have hailed from Woods Hole over the years, but the one that is most fondly remembered and which is incorporated into the WHOI logo is ATLANTIS – the original 143ft steel ketch designed by George Owen and launched in 1930 by Burmeister and Wain in Copenhagen, Denmark. She sailed to America before going into service for WHOI in 1931, serving until being laid up and then transferred to Argentinian ownership in 1966 where she was renamed EL AUSTRAL.
William Cooper, a boatbuilder who lived for many years in the Falmouth area and who sailed on ATLANTIS from 1944, when he was 17, to 1948, wrote down his stories about sailing on the big ketch over those years and his wife carefully typed them up. Mr Cooper was a born story teller, and after his death the manuscript was given to the Woods Hole Historical Museum. From that manuscript Arthur Gaines and Jay Burnett have crafted a wonderful book titled Atlantis Stories, Before the Mast on a Sailing Research Vessel 1944 – 1948. His stories are the backbone of the book but the editors fleshed it out with much additional material. Included are many historical photos and sidebar sections about several of the Captains (including Adrian Lane and Vineyard skipper Lambert Knight by Matthew Stackpole), the NORMANDIE, Eldridge (another island connection) and the Spherical Compass, U-Boats, The Tuskegee Airmen, Bathythermographs, SOFAR and other subjects. The book was published in early summer and currently is only available through the museum at woodsholemuseum.org. The book lacks a track chart, which would have been helpful in following the narrative, and an index, but there are a number of suggestions for further reading, and those books do include charts which show ATLANTIS's voyages.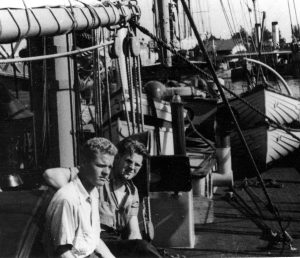 Built at the urging of Columbus O Iselin (who lived at Pilot Hill with his family) and who became her skipper as well as a director of WHOI, ATLANTIS was only cut up a few years ago when the condition of her steel plated hull had deteriorated to a point that rendered her unseaworthy. That is the bad news, but the good news is that appropriate parts of the ketch were built into her replacement vessel BERNARDO HOUSSAY, which was launched in September 2011. The book's epilogue notes "This 'state of the art' refurbished scientific vessel with new labs and equipment, which carries the legacy of three Nobel Laureates and global ocean discovery, will continue in research and teaching to prepare new generations of Argentina to make the best of the Argentine Sea. The graceful lines of ATLANTIS are reborn in BERNARDO HOUSSAY and she sails again today. Perhaps, beyond her lofty goals, the ship will once again inspire young people in the course of their lives and self-confidence, as ATLANTIS did so long ago for a 17-year-old boy from Brooklyn."
I cannot recommend this book highly enough as it is a wonderful and engaging read and, told from the perspective of the crew, it gives a very different picture than can be found in other books which are about WHOI or even about ATLANTIS. This would make a very special present for anyone with even a scintilla of scientific or maritime curiosity, and if you add to it another great book published by WHHM: Baldwin Coolidge's New England Views – many photos of the Cape and Islands from the late 1800's, to early 1900's – you'll have another special present for a special person. Add to them Susan Schlee's On Almost Any Wind and C Dana Densmore's A-Boat (the affectionate nickname for ATLANTIS) and some lucky recipient will have a lot of very enjoyable reading.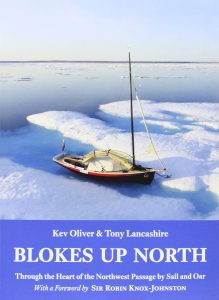 Lodestar Books in London continues to publish (and with increasing success) a uniformly designed and produced series of maritime titles, many of which are specific to a certain type of small boat, or to a geographical area such as the Thames Estuary. For those of us on this side of the ocean, or with broader interests, Richard Wynne is also publishing books such as Blokes Up North – about two hardy types who go sailing in the Arctic in a specially adapted open boat – and Catalan Castaways. WoodenBoat Store is stocking some of these titles, while others, such as Cooke on Cruising, which is my favorite title, can be ordered directly from the website www.lodestarbooks.com. You'll find that purchasing books from Dick is easy and books arrive promptly.
Two books that are currently in production promise to be winners and I am eagerly awaiting them both. The first, by Llewellyn Howland of Howland Books in Jamaica Plain, is titled No Ordinary Being: W Starling Burgess 1878 – 1947, A Biography. Mr Howland has been working on this book for some years. He is a very meticulous and skilled researcher, a gifted writer (and a wonderful speaker) so we are all looking forward to what promises to be the definitive biography of a true American polymath. The book is promised for 1st December 2014 and we can but hope that it will be on time as it would be a fabulous present for just about anyone who loves fishing schooners (Mr Burgess designed COLUMBIA, the fast and able Gloucester schooner), yachts such as the lovely and graceful schooner NINA, which was lost at sea between NZ and Australia in 2013; J-Class yachts ENTERPRISE, RAINBOW and RANGER; classic cars (he worked with Buckmaster Fuller on the Dymaxion car) or even early airplanes! To be published by David Godine and copiously illustrated, the book will be 512 pages. You can pre-order copies from Mr Howland himself at +1-617-522-5281 and don't forget to ask him about other maritime books as he's got a lot of treasures, as well as having written or edited more than a few.
Another book that I'm eagerly awaiting although there is a much longer lead-time, is a book by British yachting historian Tom Cunliffe due out in the summer. Tom, like Louie Howland, is a wonderful writer and an inspiring speaker; his books are well researched and are always engaging and interesting. The book, as yet unnamed, will be a compilation of the best of columns about classic seamanship distilled from the writings of various knowledgeable authors such as Edward Allcard, Frank GC Carr, Uffa Fox, Alfred Loomis, WA Robinson, Martyn Sherwood, Alvah Simon and HW Tilman. Originally published in the magazine Yachting World, this collection promises to be a corker. I've seen the list of books that the Cunliffes hope to include and, having read some of Tom's columns in the past, I love the way that he writes about each book, including excerpts and an appreciation of some point that he finds important. I'll write more about it next year when it is in hand. Details of other books and videos by Tom are available at www.tomcunliffe.com. You can also purchase Tom Nitsch's films of classic (and modern) yachts from that website.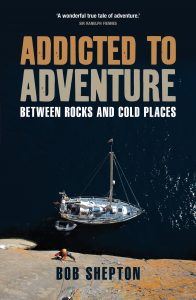 I regret to report that the internet and various digital book readers seem to be taking over a bit, but have to admit that in some instances – on a long passage perhaps – reducing the number of books and loading them all onto one of "those devices" probably makes sense. Check out what your local library has to offer. Also I have enjoyed a number of blogs and websites that include: www.intheboatshed.net; www.sailmv.org (our own group, watch the short videos to see what a fabulous organization we have); www.gCaptain.com; www.schoonermartha.org; www.sandemanyachtcompany.co.uk, and www.offcenterharbor.com – there are lots of videos on this website although you do have to purchase a membership to access them and all the other material.
I would like to review only books that I think are absolutely essential to any sailing library, but in all good conscience I must note that there are several books that I had looked forward to with great anticipation only to be sadly disappointed. One such book is Addicted to Adventure, Between Rocks and Cold Places by [Reverend] Bob Shepton. published by the Bloomsbury imprint of Adlard Coles. The book has been given numerous enthusiastic reviews and Reverend Shepton has been awarded the British 2013 Yachtsman of the Year Award, as well as the Blue Water Cruising Medal (CCA) and the Tilman Medal. I cannot agree with the other readers about the book, and having read through much of it the fact that he has survived some of his exploits seems more by good luck (and the Grace of God) than good planning and decisions. Unfortunately his narrative, which should have been really exciting and interesting is turgid and weighted down with a lot of seemingly irrelevant details that overwhelm the reader. Reverend Shepton, as a man of the cloth (and thus strong religious faith), seems to be a daring leader and an intrepid sailor and climber, but writing is not his forte. Adrian Morgan who can write (and well) was given the task of turning his manuscript into a readable narrative and I can only guess that he struggled to make it as readable as it is. In the face of a narrative that seems to be all about the very self-absorbed Reverend and rather dull, I gave up. I wanted to like the book as I've loved William Tilman's great books about cruising in high latitudes (even though he polished off several Bristol Channel Pilot Cutters in the process) but I just couldn't.
Another book that I am currently struggling to read is Peter Heiberg's Lee Shore Blues (Sex, Drugs and Bluewater Sailing) self-published in Canada. Mr. Heiberg can write well, and the book has a lot in it about his life with the Bristol Channel Pilot Cutter CARLOTTA, which he extensively rebuilt in Fowey, England before sailing her through the Caribbean to Canada. She is now in British Columbia (and for sale after being completely rebuilt by the Mohan family). I am enjoying the chapters about CARLOTTA but find the rest of his story, the repetitious "I, I, I and me, me, me" stuff – admittedly necessary in a autobiographical memoir – tedious. About the sex and drugs I'll reserve comment – suffice it to say that I haven't read anything yet that has caused an eyebrow to even flicker momentarily upwards!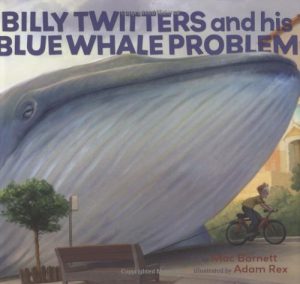 I only have one kids' book to offer this year: Billy Twitters and His Whale Problem by Mac Barnett. It actually was published back in 2009 by Disney-Hyperion, but escaped my notice at the time. Recently I heard a "Ted talk" by Mr Barnett about "Why a Good Book is a Secret Door" and was so interested that I ordered up a copy. It is a charming book with wonderful illustrations and should engage the interest of the 3 to 6-year-old set. And if you have a spare few minutes see if you can find Mr Barnett's speech, which is definitely worth the effort. It is about engaging kids in reading and books.
I have just learned that the Mariner Book of Days by Peter Spectre and Co, for many years a much loved gift item, will not appear this year. Apparently the business, for those with youth and energy (plus money) is for sale.
So there we have it for this year – happy reading!
Virginia Crowell Jones