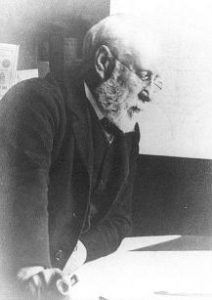 Albert Strange (1855 to 1917) was one of the foremost designers of small cruising yachts. His craft, acknowledged to be of classic quality, were and still are sought after by small boat sailors and builders in many countries.
His designs, and his writings on the subject, contributed significantly to the evolution of the seaworthy cruising yacht. He had a lifelong career in art, exhibiting many times at the Royal Academy, and turned to yacht design as an activity complementary to his love of small boat sailing. He combined the artistic, the practical, the adventurous and the gregarious, in a way rarely found today.
Beyond his enduring art and designs, he embodied qualities of seamanship, resourcefulness, humour and grace, and an ability to appreciate and communicate the entire experience of cruising under sail, which are not often equalled. The work of Albert Strange has been admired and respected by yachtsmen for more than 100 years. Though never professionally trained as a naval architect, Strange designed some 150 craft of varying size and style. Some were drawn 'on spec', others for design competitions, still others for commissioning clients. Many still grace the world's harbours and anchorages.
Strange acquired his first boat at the age of 17, in 1872. Dauntless was a 40-year-old, double-ended inshore fishing boat some 20ft in length and sprit-rigged on both main and mizzen masts. In her he doubtless got himself into and out of many a scrape on his home cruising ground, the lower Thames.
In his teenage years he spent much time in the company of local fishermen, absorbing the busy life of the waterfront and accompanying the skipper of the bawley Eliza about the local fishing grounds. This fisherman was one of those also engaged as local pilot aboard the large class racing yachts, and took Strange as his 'boy' on several of these races.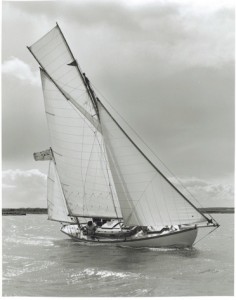 In later years Strange was to make many two-handed cruises, often in the company of his great friend George Holmes, in UK and European waters, and a number of noteworthy extended single-handed trips along the east coast of England. All of these adventures he recorded in prose, drawings and paintings, the accounts appearing in The Yachting Monthly and other magazines of the day, and the yearbooks of his clubs, the Humber Yawl Club and Scarborough Yacht Club. The experience he gained afloat lent great authority to his output as artist, writer and yacht designer. He numbered among his friends that most respected of English yachtsmen, Claud Worth, for whom he drew up the lines of Tern III, and WP Stevens, the American yachtsman and writer, whose collected papers at Mystic Seaport Museum contain many of Strange's original design drawings.
The Albert Strange Association is a club and forum for all people with an interest in the great designer. The website can be found here.