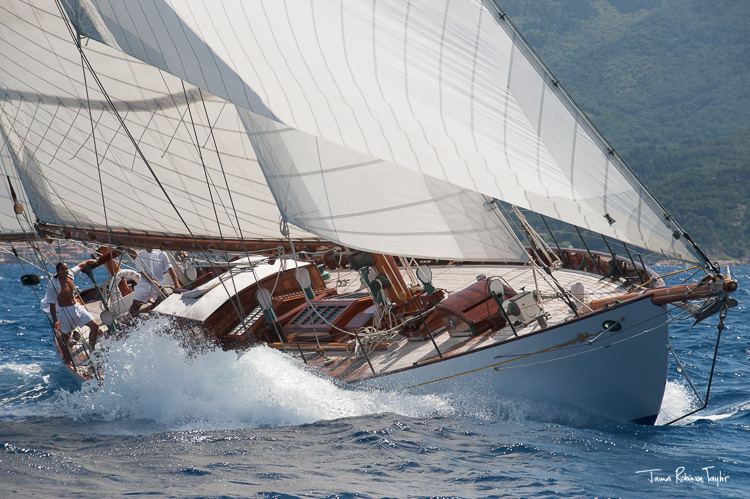 Deciding on what constitutes the perfect yacht is only marginally less likely to end in a fracas than deciding on the attributes of the perfect life-partner, but at least there are some likely points on which to agree. That she'd be fast and stunningly beautiful go without saying, and she (the yacht this is) would have a history – some ghosts with which to share your quiet evenings aboard.
She would, of course, be from a great designer, and perhaps be a favourite from his illustrious catalogue. Performance-wise, it would be nice if she could be sailed short-handed with the family or even solo, but of course, she'd have to be able to win trophies at the famous regattas and races around the world. She'd be built from the best materials, and would it be too much to ask also for her to have an impeccable maintenance history, say, to have been owned by the same knowledgeable, besotted owner for the last 40 or so years? Well, if that's the wish-list, then the yacht is without argument LATIFA.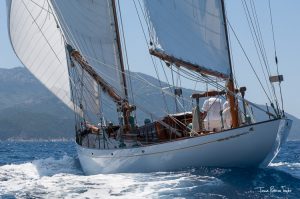 Designed by Fife III late in his stellar career, in 1936, to a far freer set of criteria than the Metre Rule allowed, she combines all the above luscious attributes and more besides. Not only is LATIFA widely regarded by many of today's yachting luminaries as the best of all Fife's designs, but the great man himself believed her to be his finest – such was his own affection for the yacht that the Fife family assimilated a representation of LATIFA into the memorial produced on his death in 1944. Of all the great yachts that have broadcast William Fife III's reputation beyond his lifespan, it was a representation of LATIFA that was chosen by his surviving family to form part of his memorial. For it is her likeness that sits, at their behest, as the windvane atop the Fife family's parish church in Fairlie, Scotland.
"A great delight to lovers of sailing vessels, for she is one of the loveliest of sailing craft yet seen, and I can see her now smoking up through the Solent with a north west breeze over her quarter, everything set even to the mizzen staysail, and all her cloud of canvas seeming to lift her out of the water'. Uffa Fox on LATIFA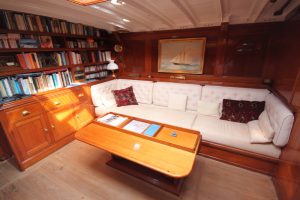 It can only be imagined how, in 1936, the already world-renowned William Fife III sat down to draw, unencumbered by the constraints of the ostensibly inshore racing rules intended to develop the thoroughbred racing yachts on which he had made a large part of his reputation, he lay all his considerable talents and acquired knowledge on the table to produce an altogether more substantial, stable yacht to an ocean racing rule that produced sea-kindly, long legged, easy-handling craft. Perhaps he already saw the writing on the wall – the Second World War was looming and the rapid development this engendered would allow a new generation of young designers to exploit unheard-of techniques and materials that would transform, literally, the shape of yacht design. Could LATIFA have been Fife's message to a future generation of yacht designers? DORADE was already six years along her path into yachting legend-hood and surely the ageing master, at the age of 79, could sense that his influence would dwindle.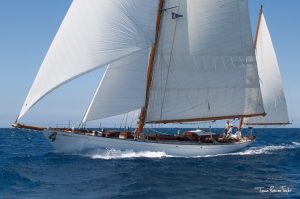 But this is wistful fiction, all that is required actually to quantify LATIFA's special qualities is to explain the sailing and the achievements amassed through her current owner's time in charge: 12 transatlantic crossings, many single-handed; a two-year global circumnavigation with his family as crew; winning Class 1 at the Fife Regatta in 2013 against such august racing classics as Astor, Solway Maid and Kentra; winning the Concours d'Elegance at Antigua Classics 2011… and to top this, in her infancy she placed second in two consecutive Fastnet Races. LATIFA is very much a yacht with which to dream and then to achieve.
"Yesterday off Ardlamont – the south-western tip of Argyll's Cowal Peninsula – during The Fife Regatta's thrash from Tighnabruaich to Portavadie, we saw the real LATIFA come alive, full and by, as William Fife Jr must have visualised this exquisite – some would say the finest – example of the functional art that flowed from his drawing boards and models, through his Fairlie boatyard to the firths, seas and oceans."
Fife was 79 when he designed and built LATIFA as an ocean racer. She never stops."Yacht historian and Fife expert, Iain Mcallister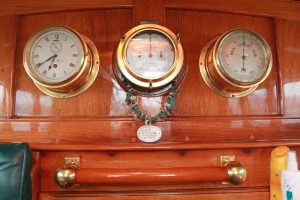 Aboard today, she looks every inch the Fife dream-yacht. When the current owner found her 37 years ago, he immediately undertook a major restoration at the Beconcini yard in La Spezia, Italy, under his own close supervision. As well as required maintenance work commensurate with her age, adjustments were made to swap her bulky engines for a more suitable and compact power source. Today she is fitted with twin 50hp Kubota engines driving contra-rotating Max Prop propellers and each engine is capable of charging her bank of house batteries. The space that this rationalisation freed up has been incorporated into her living quarters and she now has a saloon befitting a yacht of her size and status, as well as boasting a library and three double cabins.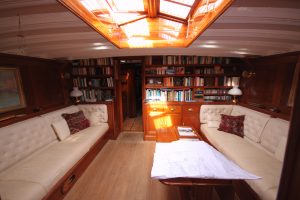 Along with extensive interior refurbishment and structural maintenance – including a new deck – LATIFA's rig has been restored to that from her original drawings – a low aspect, three headsail yawl. And such is the current owner's passion for hands-on sailing that innumerable small upgrades have been made to equipment and running gear to make short-handed and solo sailing not just a viable option, but something undertaken on a regular basis.
As referenced here, the allure of LATIFA has been remarked upon by many of yachting's great wordsmiths and commentators over the years, but none could put it more movingly than her current owner: "The moment I saw her and set foot on deck my heart missed a few beats as I knew, beyond any doubt, that our destinies were linked. As a trained architect, classical art lover and collector I was immediately captivated by her utter beauty, by the harmony of her lines and the right proportion of every detail. In LATIFA there is that very rare, almost magical Fife combination of power and grace."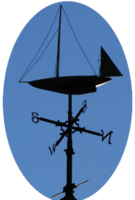 But with time all things come to pass, and now this desirable, beloved and utterly usable piece of yachting history will pass to someone new: what is perhaps the ultimate Fife cruising yacht is requiring a new owner. And it might be another forty years before anything like her comes onto the market again.
LATIFA is for sale through Sandeman Yacht Company. For more details, photos and full specs, please CLICK HERE