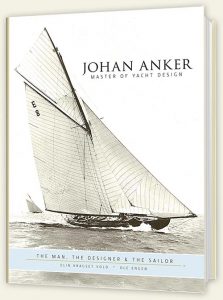 Published by Randviken in Sandefjord, Norway in 2013, this book is the English translation of a book originally published in Oslo by Cappelen Damm in 2003 as Johan Anker Linjenes Mester. Authored by Elin Kragset Vold (she and her family owned an Anker-designed boat) and Ole Engen, it is a carefully researched and well written biography of the Norwegian yacht designer who lived from 1871 to 1940. It is a sumptuous volume as well – all 358 pages of it – with many, many stunning photos. It is a costly book and apparently was printed in limited numbers, but it is well worth the price IF you can find one.
Johan Anker was born in 1871 to a prosperous Norwegian family and received an education that culminated in learning naval architecture, yacht design, yacht construction and engineering. Yet it appears, rather than being a logical designer, he was an intuitive one. From an early age Johan and his siblings were exposed to the maritime environment with sailing and the design of small boats as favorite activities, however, as he matured so did his designs. As well as his designs for Metre (6, 8, 10, and 12-Metre boats) and class boats Anker was the designer of the well-known Dragon class and of many custom designs as well. Further, he was deeply involved in the development of the International Rule, which was such an integral part of the yacht racing world for most of the 20th century.
But Johan Anker was more than just a man with an eye and a gift for creating gorgeous yachts (with a fine turn of speed), he was also involved in the political and cultural life of his country. There are photos of him impeccably turned out stepping out with royalty (King Haakon and Queen Maud), there are photos of him driving (he is thought to be the first in his home town to acquire a driving license), photos of him active (and even asleep) on the deck of some lovely yachts, as well as cruising and racing. In fact the photos – which are reproduced with great care and fidelity (mostly in monochrome although the modern photos are in colour) are one of the predominant features of this book. Along with a huge amount of factual information in narrative form about design, racing rules, construction techniques, cultural, social and political history, the photos provide a great deal of information as well as being just beautiful images of gorgeous boats by some of the world's best photographers. This book sets a high standard – similarly to recent books about classic yacht designers such as Starling Burgess and GL Watson – that many authors will aspire to but few will achieve.
The book is arranged in chronological sequence, having major themes and sections encompassing 5-year periods. A great deal of the information has been compiled from the detailed diaries kept by his second wife Nini Roll Anker and with access to the business records from Anker & Jensen – the boatyard that Johan owned for many years. Additional material is included from contemporary and current yachting commentators about various rules, design principles, construction techniques and the like. There is also an extensive bibliography along with details of the designs and the boats that were built.
This would be an important addition to the library of any yachtsman who loves beautiful classic yachts, but if you own or contemplate ownership of an Anker design, it is a must.