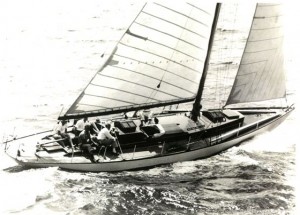 Virtually every traditional and classic boat lover will have experienced sudden and sometimes irrational feelings of longing, envy, and lust, coupled with an overpowering urge to possess some boat or other. It is more than the desire to go fast or to set out to explore, or even just to have a boat that looks lovely. And for some it is more than just emotion and desire: the feelings become an obsession. The object of desire could be a nimble Bristol Channel Pilot Cutter, a Charles E Nicholson cutter, a Frederick Shepherd canoe-sterned ketch, an ELCO motorboat, a Lawley launch, a Colin Archer Redningskoite, an Albert Strange yawl, one of Olin Stephens iconic ocean racers… The possibilities are almost endless, and the qualities that inspire these complicated feelings are just as diverse.
Here are five boats that have inspired an obsessional sort of desire. Two are from Fife and are in England or Europe, the other three are US in conception and design. Nathaniel Herreshoff and John Alden need no introduction, however, the final boat was designed by a Californian named Nick Potter, who is less well known.
Back in the early 1950's a series of 7 sisters – all about 34ft and slim double-enders with breathtaking sheer – were built, allegedly to a design by William Fife III. At least two of them, Nyatonga, launched in 1951, and Nyachilwa, launched in 1952 from the Fairlie Yacht Slip in Fairlie, Scotland, arrived in the United States in the next decade or two and over the years were much admired and coveted. Here is a bit of history about the Fife sisters.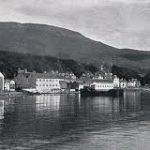 Nyatonga is listed in the 1955 British Lloyds as belonging to Stanley Woodward junior and registered in Norfolk, Virginia. At some point in the next decade, Nyatonga sailed north to Southport, Maine where she cruised in Penobscot Bay, Maine for years in the ownership of Col Hugh MacDonald. She is listed under his ownership in the American Lloyds of 1969 and Maynard Bray remembers her, painted blue, moored near the Bray family's Herreshoff yawl Aida in Cozy Harbor, about that time.
In the late 1970s she was purchased by Tony Higgins, who had been one of the early first mates for Captain Robert Douglas on Shenandoah, the 102ft square-topsail schooner. Tony subsequently married a Vineyard girl and settled down, but, inspired by his time on Shenandoah, yearned for a classic boat to sail in Vineyard waters. He purchased Nyatonga in the late seventies, and sailed her south to Martha's Vineyard on a trip described by Nat Benjamin, who accompanied him: "aside from sudden weather changes in our unprotected anchorage, non-functioning engine, thick fog, and excessive leaking, it was an uneventful trip." In her new home port of Vineyard Haven, Tony worked on the boat but, finding her continuing repairs and his young family incompatible, sold her to the late Tom Hale, then the owner of the Martha's Vineyard Shipyard.
One of Tom's many achievements was the design of a sloop called the Vineyard Vixen, built in both 29 and 34-foot hulls, which the shipyard built in the then emerging medium of GRP. They bear more than a passing reference to both Nyatonga and the long, slender double-ended Rozinante sloops from the drawing board of LF Herreshoff. Tom told his son Phil (the current owner of MV Shipyard) that he'd learned that Nyatonga was under construction during WWII but the project was put on hold and even partially disassembled before being finished and launched in 1951.
During his ownership, Tom effected many repairs to Nyatonga but eventually sold her to Money Hickman and his wife. Mr. Hickman was the curator of Asian art at the Museum of Fine Arts in Boston and treated  Nyatonga with all the curatorial respect and zeal such a boat deserves. Swathed in a full canvas cover Nyatonga was one of the first boats to be re-launched each spring and one of the last boats to be hauled from her protected mooring behind the breakwater in Vineyard Haven Harbour. In the 1990s Mr Hickman, who reportedly only sailed the boat twice but maintained her as a jewel, sold her to a European owner who had her shipped to the Mediterranean and her current whereabouts are unknown.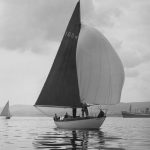 In the 1955 British Lloyds Nyachilwa, launched in 1952, was listed as belonging to Lt-Col G & Capt P Mackie-Campbell, with a homeport of Greenock, Scotland. Her next appearance was her inclusion in the Wooden Boat Register (an offshoot from the defunct Lloyds Register) in 1993, where she is listed as belonging to Kevin Sullivan of New Jersey, with a home port of East Hampton, New York. In between Scotland and East Hampton, or perhaps in the Sullivans' ownership, she sailed from Nantucket to Martha's Vineyard. The Sullivans' owned and sailed Nyachilwa for some years and only reluctantly put her up for sale in 2005 through Steve Corkery from Coecles Harbor Boatyard when they decided to do some cruising in the Med. Steve and Maureen, his wife, kindly shared their information about Nyachilwa with me including their correspondence with Graham Dallas, who purchased Nyachilwa and had her shipped to England where she was painstakingly rebuilt by Fife expert Simon Grillet. You can read about her subsequent rebuild in her listing for sale by Sandeman Yachts.
My own quintessential moment of boat-lust (aside from a passion for the Alden schooner When and If) happened when I was walking along the quay in English Harbor, Antigua, in, I think, November of 1973 and came upon the 1936, 72ft Fife ketch, Eilean, then skippered by Mike Beal. She was tied up stern-to, but without ever setting foot on board I fell in love. I don't think that I've ever seen a more beautiful yacht, although there are many that have come within a whisker. She was stunning – a real heart stopper, and her recent total restoration after many years of a dedication exemplifies the way obsession can take over.
The next three boats are all quintessentially North American.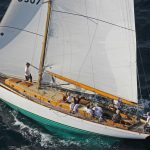 The first is Altamar, currently in storage at Traditional Boat Works in San Diego. One of the legendary racing/cruising California 32 series, she was designed by Nicholas Potter and built along with four sisters: Cholita, Tempest, Escapade, and Amorita, by the Fellows and Stewart yard in Wilmington, California, just before WWII. A further five were contemplated, but the war put that on hold and only Atorrante and Andale were built post WWII. Pegaso, a modified strip-planked Cal 32, was built by Cheoy Lee in Hong Kong and launched in 1966. Altamar, was launched in 1937 as No2; she was built with a teak backbone, white oak framing, Doug fir planking and all tobin bronze fasteners for Donald Douglas of Douglas Aircraft. In an article in the July/August 1988 Woodenboat Magazine about Nick Potter, writer Thomas Skahill stated: "The California 32 – like the New York 32, a Sparkman and Stephens yacht introduced at the same time – derives directly from the New York 30, a 1905 gaff-rigged sloop conceived by Nick Potter's mentor, Nathaniel G Herreshoff." An article from the December, 1937 issue of Yachting magazine notes that the five sisters were built upside down – a first for construction in southern California. "It assures greater uniformity, at the same time reducing cost because the job of planking is easier and faster." The article also mentions that the original standing rigging was stainless steel rod which must surely be one of the earlier uses of rod rigging.
The article goes on: "Their speed is decidedly not gained at the expense of comfort. Accommodations consist of a double stateroom aft, a main cabin with two berths, which can be fitted with uppers, a galley, two toilets and a forecastle. The engine room is aft, with its own hatch. Naturally, headroom is full throughout and the cabin trunk extends over the after part of the forecastle." Several of the sisters (Cholita and Andale) are now in Europe and much prized as they are as fast or faster than the New York 32, very handsome and comfortable at sea. Attorante was lost on passage to Hawaii in 1975 when she struck an object in the water and sank. Altamar's hull is currently available (with plans and much information) for sale as a project from Traditional Boat Works in San Diego where the proprietor Doug Jones has her stored (for the record, Doug is my son). He was the lead carpenter on Andale, now in Europe, and again for the restoration of the Q-boat Cotton Blossom II, also in Europe.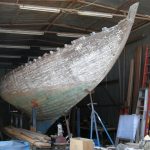 Nick Potter was nicknamed "the Herreshoff of the west" and he was a devotee of the designs of Nathaniel G Herreshoff as well as a life-long friend of L Francis. After his death (and at his request) most of his designs and papers were destroyed although some information remains, and Tom Skahill saved a copy of the plans for the Cal 32. On the Sparkman and Stephens Association website there are several lengthy and very informative articles by Patrick Matthiesen of London about the New York 32s and the Cal 32s. There is, however, no doubt that the design is very sea-kindly, comfortable, and fast.
Naval architect Doug Peterson and Doug Jones rescued Altamar from the dumpster when Koehler Kraft, the yard where she was then stored, was rebuilt in 2007, and they've been storing her ever since in the hope of attracting an owner with the vision and funds to restore her. Doug P stands ready to assist with advice and Doug J has collected lots of information about Altamar and Andale, as well as from Tempest, a sister which remains in southern California in virtually original condition.
Altamar and Andale are listed for sale by Sandeman Yachts.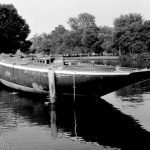 Two more boats – both likely to represent a more substantial outlay of cash, time, energy and commitment – are located in southern New England. The first, Doris, ex-Vayu, ex-Doris, is a hull lying at Crocker's yard in New London, Connecticut. Built as a gaff cutter from the drawing board of Nathaniel G Herreshoff, she was hull number 625, and was the first substantial yacht built to the Universal Rule, which came into effect in 1905. Named within the National Register of Historic Places (one of few vessels so designated) she is a major, major project.
When compared to the recent meticulous multi-year restoration of Spartan – the only existing Herreshoff New York 50, and truly a project that raised the bar on yacht restoration projects – the task is even more formidable as: her non-original ketch rig was donated for use on the 72ft Fife yawl Cotton Blossom IV; whatever remains of her interior paneling has allegedly been incorporated into a house in the area; her lead keel was sacrificed to the war effort and she's been uncovered (but well supported) for some years.
Sailing on Vayu back in the late 1970s was always exciting – a constantly changing cast of characters, a hull that leaked copiously, and a big sail plan, coupled with significant speed. She was quite a sight then along the southern New England coast, and, if restored to her original gaff cutter plan, would be an incredible sight again today. Various restoration/rebuild efforts have been started and subsequently languished. However, a new owner with vision, deep pockets, and, yes, obsession, would have an amazing vessel, as her interior volume would allow a very comfortable interior with all mod cons and she would be fast. Information still exists about the interior paneling and certainly much is known about Herreshoff's design and construction. Her hull shape is very handsome and her original rig was stunning. I hope that someone comes along who has what Doris needs before time runs out. They will be amply rewarded.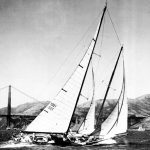 The final boat in this array is a John G Alden 83ft gaff schooner named Serena, built as Amorilla, Alden design No70. Launched in 1916 by George Lawley & Son in Neponset, MA she sailed into Newport, RI in 1982 – very much on a wing and a prayer, as she was tired and her staysail schooner rig was even more tired. For many years she had been based in Alameda, California and the circumstances of her return to the East Coast are unknown to me. I did follow her after she was hauled at DN Kelley's yard in Fairhaven, MA, stopping by to look whenever I was on the mainland, and some rebuilding started in the late 1980s, but it appeared to be a case of a dedicated owner with a very large project and insufficient resources.
At some time in the 1990s the hull was moved from Fairhaven to New England Boatworks in Melville/Portsmouth, Rhode Island. Currently she is stored under a canvas cover, with some planking off. Her condition is slowly deteriorating although her owners continue to pay for storage and the yard advises that the owners have shown no inclination to sell. An alternative rumor that I heard recently is that the asking price is (or was) over $850,000, which seems rather steep for the project, particularly as the condition of the rig and any remaining interior is as unknown as their location.
Photos of some of these boats may be found via a Google search, along with conflicting and even dubious information. In my experience, some forum threads can contain badly misleading information about history and condition. If you are interested in a boat, you must do some serious research, inspect the boat, deal with a reputable broker and have a detailed survey.
Meanwhile, keep an eye out: while those boats that provoke the obsessional kind of thoughts are few and far between they do still exist and one could be yours!
Virginia Crowell Jones
Copyright 2012