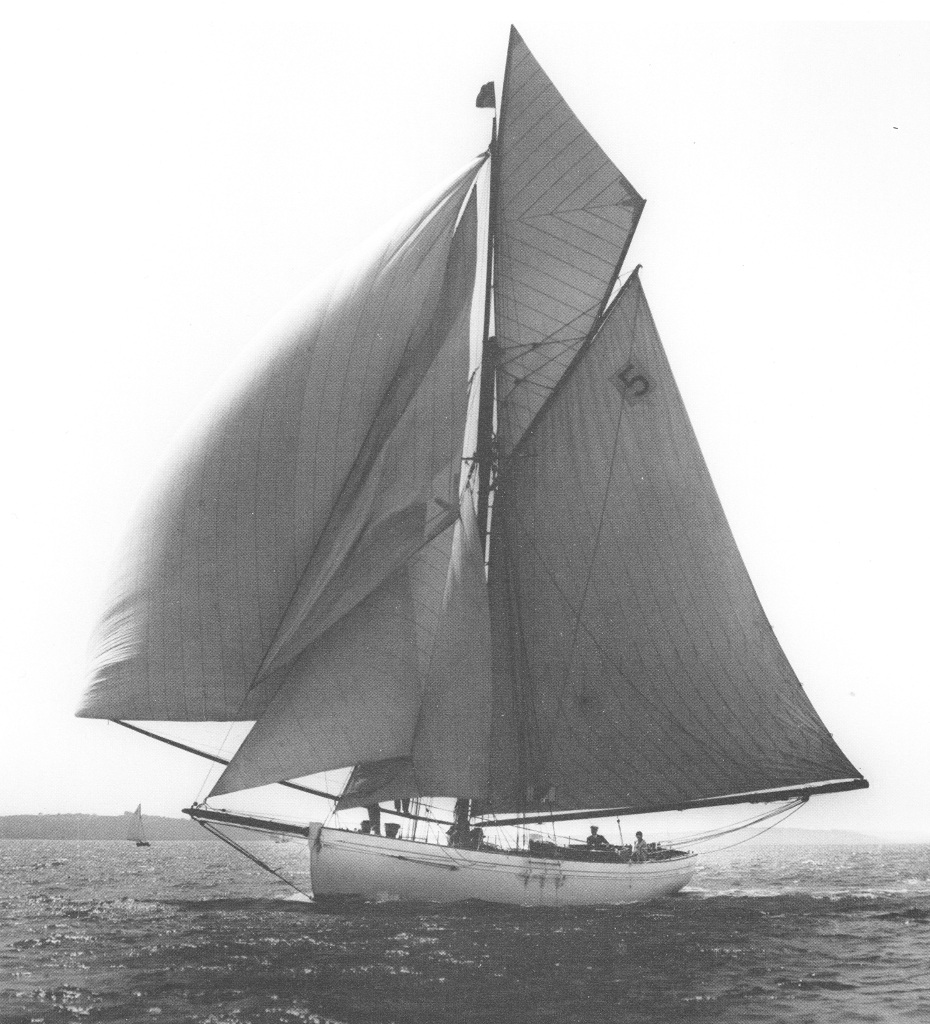 At 47ft 6in and 30 tons TM, Tally Ho was the largest transom-sterned boat designed by Albert Strange. She was built for Charles Hellyer of Brixham, who had fishing interests in that port, as well as in Hull, and was a member of the Humber Yawl Club.
Betty, as she was named when launched, was built by the well-known and reputable yard of Stow & Sons at Shoreham to Lloyd's highest class. The midship section drawing shows the hull was to be planked in American elm below the waterline, with teak above.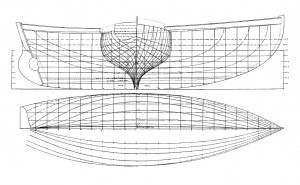 The commentary which accompanied the publication of the design in The Yachting Monthly in 1910 remarks that Hellyer required a yacht in which he could cruise in comfort whilst indulging in deep-sea fishing. This explains the barrel windlass forward of the mast and perhaps the unusually clear flush deck. The article continues:
"The transom stern, rather unusual in a yacht of this tonnage, was adopted in deference to the wishes of the owner, in order that she might lie in the crowded harbour of Brixham in the smallest possible space."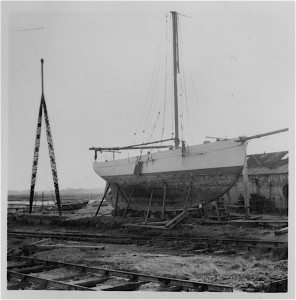 The boat has had a colourful career. It was when Hellyer commissioned Strange to design the larger Betty II of 50ft waterline in 1913 that Betty passed into the ownership of Lord Stalbridge, and became Tally Ho. The photograph by Beken of Cowes shows her at this period under racing canvas, with the short pole mast changed to a taller fidded topmast rig, and sail area increased by some 400 sqft, or about 20 per cent. Of her celebrated win of the 1927 Fastnet Race in storm conditions, Alf Loomis, crewing on the Alden schooner La Goleta, wrote:
"At the time, this contest between Tally Ho and La Goleta was characterised as the hardest fight between two yachts that had ever been sailed in English waters over so long a course and under such heavy weather conditions."
There is less recorded of Tally Ho in the following decades, although some delightful photographs by Fran Flutter, taken in 1938, show her enjoying a possibly gentler cruising life. It seems that she completed more than one transatlantic trip after the Second World War, whilst still based in the Southampton area. then, in 1967, New Zealander Jim Louden set out in Tally Ho from England heading for home, via the Panama Canal. He paused to charter for a few months in the Caribbean and then sailed on single-handed to Rarotonga, in the Pacific, which he reached in July 1968. Here he was offered a charter to fetch 20 tons of copra from the island of Manuae (Hervey Islands), 120 miles to the north-east. With a young lad as crew, he reached the offing during darkness and hove to waiting for dawn. As they slept, the current carried the yacht down onto the island, where the surf lifted and drove her onto the coral reef and stove in her port side amidships.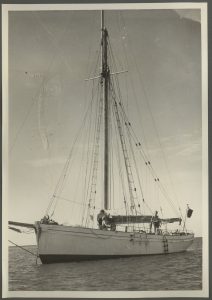 She was eventually dragged off the reef, after seven tons of lead ballast had been removed from her bilge and her cabin filled with empty oil drums. As she came off, she rolled over and was dismasted, also losing her rudder and bowsprit. But the drums kept her floating just awash, and in that condition she was towed the 120 miles back to Rarotonga, something of a tribute to the strength of her original deck construction. In Rarotonga, she was rebuilt over a period of years, during which time she changed hands, and eventually found her way, via Tahiti and Hawaii, to the west coast of America. There, with aft wheelhouse and twin trolling poles rigged on the mast, she went to work periodically, under the name Escape, fishing for tuna and salmon out of Brookings Harbor, Oregon. During this ownership, in the 10 years between 1977 and 1987, Dave Olson sailed some 20,000 miles in her, twice to the Marqueses, to Tahiti, frequently to Hawaii, and even to Pitcairn.
At this time she was still in remarkably good condition for a boat of her age and usage. But when Dave Olson wanted to move on, a new owner could not be found and she languished in Brookings Harbor for some years.
It was during this period that the Albert Strange Association (ASA) became aware of Tally Ho, and that she was potentially running into trouble. In 2008 the Port of Brookings sold her at auction to a local artist, fisherman and shipwright, Manuel Lopez, who formed a charitable foundation and set out to restore her, with the idea of making her a show-piece for Brookings. Manuel did extensive work on the hull, but sadly died in early 2010 without having got her back in the water.
With the loss of Manuel's driving force, Tally Ho found herself again in limbo, with storage fees accumulating, which the charitable foundation had no means to pay. The lack of funds and energy locally to advertise her existence, historical value and availability seemed to leave her stranded, and by late 2012 the port was preparing to foreclose on her. Understandably, they could not allow a deteriorating wooden hull to remain indefinitely on the site, and there was a real danger that she would have to be broken up. In a renewed effort, the ASA contacted the port manager, and a plan of action was initiated to resolve the issues to each party's benefit.
A Rescue Plan for Tally Ho – by Dick Wynne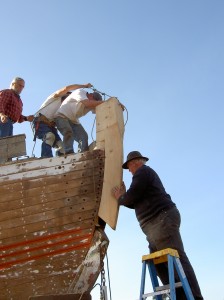 With the full and generous co-operation of the port manager at Brookings, and members of the foundation that Manuel Lopez had set up, a plan was agreed with the ASA. The port prepared a piece of ground and moved Tally Ho away from the busy working area she had occupied, and agreed to waive overdue charges. The ASA formed a wholly owned UK limited company for the sole purpose of holding title to the boat, and through which it is now paying storage fees at a very reasonable rate.
In communicating with the ASA membership about these arrangements, a member, Pat Kellis, a retired waterman, who lives in the vicinity came forward and he has emerged as a local spokesman. Pat has taken pictures of Tally Ho cataloguing her condition in new detail, and undertaken construction of a cover to protect her from the winter weather.
The ASA has now embarked on a campaign to raise awareness of Tally Ho, and to locate that person or syndicate with the passion and resources sufficient to get her back on the water. The task ahead should not be underestimated, but it is particularly encouraging that throughout her long life of cruising, racing, fishing, injury, repair and neglect, she has retained her all-important shape – a great testament to the strength of her design and construction.
What next for Tally Ho?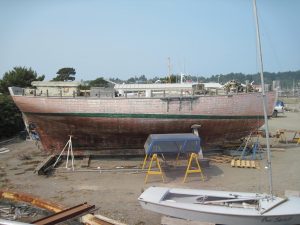 For all the celebration of her Fastnet victory, what that race actually demonstrated is Tally Ho's extraordinary capability as a cruising boat, and as Loomis put it at the time, her sea-going rather than sea-keeping ability. She continued to look after her crews, notably in the Pacific, during four days in a hurricane en route for Honolulu in 1976.
The effort and expense of her restoration, an exciting and fascinating project in itself, would be rewarded with the re-creation of a first class cruising yacht of known qualities and pedigree. Very well suited to many uses as family yacht, or for deep-sea cruising, chartering, or sail training, the project might suit a syndicate as well as an individual.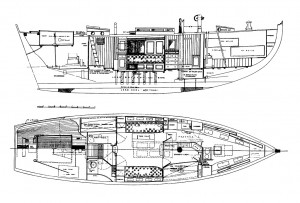 For the competitively-minded, a very important appointment awaits: the 90th anniversary Fastnet Race in 2015, or if that is too soon, the 90th anniversary of Tally Ho's win in 2017, or indeed the Centenary of the race in 2025 – in any of which a class of veterans, including the splendid Jolie Brise, would attract huge interest. The search is on to track down the whereabouts of La Goleta and other 1927 competitors.
"…Tally Ho, working toward the Lizard under reefed main and spitfire jib. High though the seas rose, she seemed as steady as a church, and we watched her in silent admiration. Here indeed was a competitor"
…and here indeed is a yacht worth saving.
Tally Ho is for sale through Sandeman Yacht Company