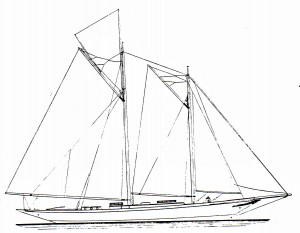 Elise was built on the Clyde in 1912 by William Fife III as an auxiliary gaff schooner with a Gardner two-cylinder paraffin engine. She was constructed for a WA Young of Paisley of mahogany and pitch pine on oak frames, copper fastened and the hull was also copper sheathed. Though her war history is unknown, Elise was owned by Young, a member of the Royal Clyde and Royal Northern YC, until 1919.
At this time she was sold to a Carl Ruben of Copenhagen by whom she was homed in Baltic waters. In 1922 she was repatriated by Sir Alfred L Goodson Bart of Brixham before she went on to rapidly traverse a huge series of owners, names and home-ports. Names adopted include: Elise, Mima, Spina and Elise of London, while she seems to have called most major Mediterranean ports home at one time or another, before being returned to the UK around 1979.
In 1980, under the name Spina, she was bought by retired baker, Mr Appleyard, who sailed her to Salcombe harbour with the intention of rebuilding her there. However, he passed away before he could achieve the desired result and the boat was passed on to his son and daughter who sold the boat to the Meredith family in 1992.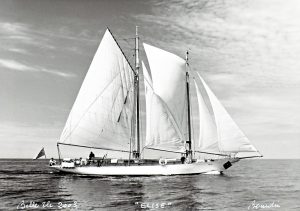 Since her rebuild and re-launch in Salcombe by the Meredith family in 1996, she now carries a staysail schooner rig instead of her original gaff schooner arrangement. Her copper sheathing was also removed at this time.
Elise is for sale through Sandeman Yacht Company. A detailed analysis and costing of the work required to put Elise back afloat has been carried out and is available on request, as is all the documentation and research generated by her 1992 rebuild.